Talentuous Serbian musician, Milivoj "Mika" Markovic
drop this great album in 1980 with a sextet.
With this sextet he plays around Europe during early 80s.
Stjepko Gut (also known as Steve Gut) is a Belgrade based jazz musician (born in Ruma 15.12.1950).
Great Jazz/Groove album. Don't miss it!
If you got news of what he is doing NOW please contact me.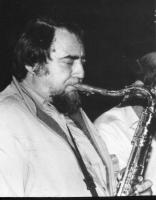 MUSICIANS:
Stjepko Gut – tp; flh; Milivoj Markovic – ts; Nikola Mitrovic – flugabone; Milos Krstic – p; Vojin Draskoci – b; Lazar Tosic – ds.
Tracklist:
1. YU1QMM (M. Markovic) 5:25
2. Love For Sale (C. Porter) 6:03
3. Balada In Es.kutabile (M. Markovic) 5:35
4. Blues De Funk (S. Gut) 3:40 Side B:
5. Stemi (M. Markovic/S. Gut) 6:30
6. Neka Secanja [Some Memories] (S. Gut) 7:08
7. Oleo (S. Rollins) 7:09
http://www.mediafire.com/?xnazgonvmwn